---
Latest revision as of 02:35, 20 July 2016

This page is obsolete
This article is written for older versions of JomSocial. While chances are that is still valid, It could contain images and information that are not. Are you interested in helping us making best documented Joomla! extension in the world and improve this article? Then click here to find out how.

Display users' submitted Joomla articles on their profile.
Application View

User configurable options
This application have no user configurable options
Backend Options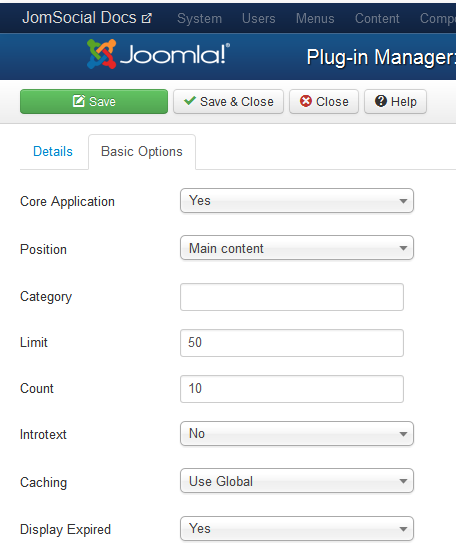 Core Application - If enabled, application will be added to all profiles in the position you select.
Position - Select the position you want this module to be published in by default. In Joomla 3.0 you have to uncheck all position you dont need.
Category - If you want to display only articles from desired category, enter the respective category id's here, separated by comma. Leave blank to show all articles
Limit - Limit the lenght of the displayed content
Count - Number of articles to be shown
Introtext - Show introtext
Caching - Enable the plugin content caching
Display Expired - Should expired articles be displayed
Repositioning
If you wish to reposition the application later, you can start typing the position name and available positions will show up. Please note that already added Core Application, can not be repositioned for users that already have application added into their profiles. If application is set to be Core Application new position will only be applied to new users that register on your site.
See Also