This page is obsolete
This article is written for older versions of JomSocial. While chances are that is still valid, It could contain images and information that are not. Are you interested in helping us making best documented Joomla! extension in the world and improve this article? Then click here to find out how.
From JomSocial 4.1
Coming soon
JomSocial 4.0, 3.x and earlier
If application is not set as Core, before using it, users will first have to add the respective application in their profile.
To do this, click on Customize My Page link from Profile menu in JomSocial Toolbar
Page with all added or Core applications will show up. Click on any Add applications link as shown on image bellow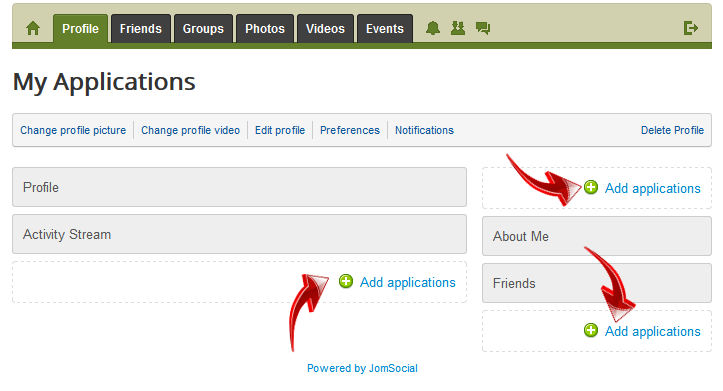 By clicking on any of those links the new popup window with all installed applications will show up. Just click on the Add link and repeat the process for every application you want to add.
Repositioning
Once application is added to profile, user will have the ability to drag and drop application to any other available position at any time
Note
Repositioning wont work if application is set as Core