Goal
Primary objective of this article is to explain how to enable, and configure Events at your site. Please read it completely to understand all available options
Accessing the configuration options
Navigate to site Back End, and from Components dropdown menu, select JomSocial->Configuration

Locate the Events settings and make sure that Events are enabled (they are enabled by default)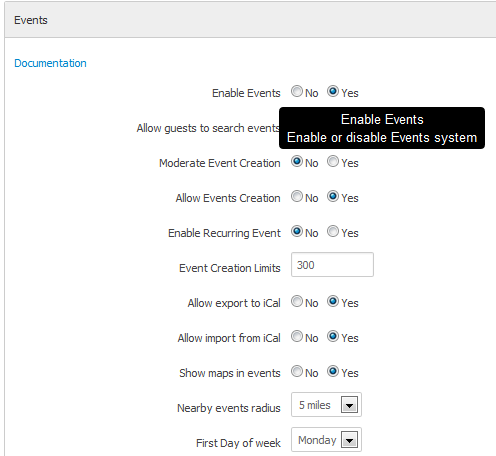 Other options explained
Allow guests to search events - Should unregistered visitors be able to see events?
Moderate Event Creation - If enabled, Administrator will have to approve every new event
Allow Events Creation - Allow users to create events
Enable Recurring Event - Enable or disable recurring events
Event Creation Limits - Set the limit of maximum events that single user can create. 0 for unlimited.
Allow export to iCal - Allow exporting of events into iCal formated file
Allow import from iCal - Allow users to import events from iCal formated file
Show maps in events - enable or disable Google maps on event page
Nearby events radius - Allow the system to search for events within defined radius
First Day of week - Allows administrator to define what will be the first day in calendar
Event listings date format - Event date format on Lists (not on event page itself)
Event time selection format - Chose the time format for events. This only applies to date selection.
Event time selection format - Configure to display time zone in events.
Additional Events options
In template settings
Default JomSocial templates have option to show latest events on frontpage to public or registered members as well as hiding it completely.
Please navigate to Components->JomSocial->Templates and open the template that is currently in use at the site
locate this option
Show latest events - This option control the visibility of Latest Events box on frontpage
In Layout Settings
Navigate back to JomSocial Configuration and find the Frontpage options under layout Pane
'Frontpage Recent Events - is an option which will determine how many recent events will be shown in the Latest Events box on frontpage.
Event List - This setting let you chose to display either upcoming or featured events in frontpage box.